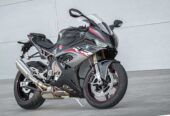 Always pushing to the limit and in search of the ideal line, you've got 152 kW (207 HP) underneath you. Unbridled power pushes your RR to the max – with a maximum torque of 113 Nm at 11,000 rpm and a torque curve of at least 100 Nm over a range of 5,500 to 14,500 [rpm]. Ten years after the first generation of the RR first mesmerized the world of motorcycles, we're now entering the next level of performance. We have revised almost every component of the RR – from the front to the rear. The result: less weight and noticeably higher performance. Are you ready for the pole position and for victory? The RR awaits you.
Three different colours highlight the untouchable sportiness of your RR. You can choose between paint options like Hockenheim Silver metallic, the new Black storm metallic and Light white/Racing blue metallic/Racing red.
Features:
Lighting design: LED, visible, dynamic, aggressive.
6.5" TFT display: everything in sight – and under control.
Standard seat and special equipment: always firmly in the saddle.
4 standard riding modes / Race Pro 1-3 riding mode: a question of attitude.